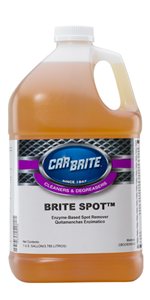 Car Brite Brite Spot Bio-Enzymatic Cleaner
E050L4
Brite Spot
VOC Compliant
Body Shop Safe
NPE Free
Description:
An enzyme-based spot remover with an herbal fragrance that removes protein, petroleum and organic-based stains from carpet and upholstery. 
Characteristics
Function: Bio-Enzymatic Interior Cleaner
Surfaces: Carpets and upholstery
Formulation: Water-based solution containing acid
Key Benefits
Contains enzymes which break down protein-based stains so common to vehicle interiors (food, blood, grass, coffee, etc.)
Contains mild surfactants and solvents effectively cleans a variety of interior surfaces without leaving residue
Water soluble solvents dissolve grease and other petroleum-based contaminants
Concentrated formula reduces usage costs
How to use
Thoroughly vacuum area to be treated.
Mix one part product with four parts water (1:4).
Brush fabric with upholstery brush to separate fibers.
Lightly spray product on fabric to be cleaned, and allow to dwell for several minutes.
Agitate with upholstery brush, cleaning entire panel.
Towel dry, then thoroughly vacuum area cleaned.
NOTE:  Use 1:30 (one part Brite Spot, 30 parts water) when used as an enzyme-based extraction fluid
---