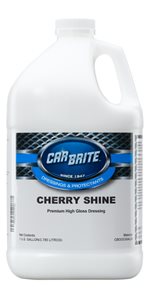 Car Brite Cherry Shine Dressing
C004LL4
A premium, water-based, all-purpose dressing with a cherry fragrance that produces a high gloss finish while helping protect rubber, plastic and vinyl interior and exterior surfaces.  Conditioning agents help protect against sun and wear by restoring moisture, keeping surfaces soft and pliable.

VOC compliant
Water-based formula contains no harsh solvents
Safely and effectively shines and protects exterior and interior rubber, plastic and vinyl surfaces
Long lasting high gloss gives "like new" appearance
Safe for use on engines
Extremely durable

How to use

Dilute up to 1 part product to 4 parts water (1:4) depending on desired shine.
Prior to applying product, thoroughly clean surface, pressure rinse and wipe dry.

Exterior & Interior

Spray product on applicator pad and apply to vinyl, plastic and rubber surfaces.
Allow to dry, or wipe dry with clean towel.

Tires

Spray product on applicator pad and apply to tire.
Allow product to thoroughly dry before moving vehicle.

Engine

Spray entire engine evenly.
Wipe down with soft, clean cloth.
---