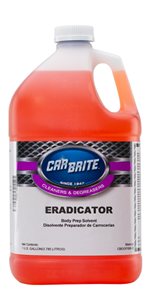 Car Brite Eradicator Body Prep Solvent
F006L4
Description:
A body prep solvent formulated to remove grease, tar and wax from exterior surfaces.  Formulated using a blend of highly refined solvents and detergents to deliver our most powerful body prep solvent.  
Characteristics
Function: Body Prep Solvent
Surfaces: Exterior paint, chrome and trim
Formulation: Solvent blend
Key Benefits
Blend of highly refined solvents containing fortified surfactants
Quickly and safely removes grease, tar and wax from paint and chrome
Effectively removes petroleum-based stains from fabric surfaces
Dries quickly and rinses freely
Ready-to-use formula extremely easy to use
How to use
Exterior Grease, Tar & Wax Removal:
Apply product with trigger sprayer to painted surface.
Agitate solvent on vehicle with applicator pad.
Thoroughly pressure rinse areas cleaned.
---