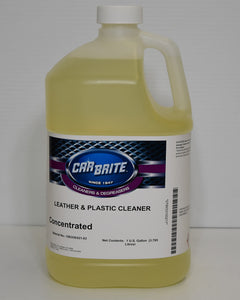 Car Brite Leather & Plastic Cleaner Cleaner
E021L4
Leather & Plastic Cleaner
VOC Compliant
Body Shop Safe
Phosphate Free
NPE Free
Description:
A water-based leather and plastic cleaner that removes dirt, grease and grime from leather and interior plastic surfaces.  Also great for interior rubber and vinyl.
Characteristics
Function: Removes heavy soils
Surfaces: Leather and plastic
Formulation: Water-based solution
Corrosiveness: High (caustic)
Key Benefits
Effectively cleans soiled leather surfaces
Water-based formula thinner and easier to use than most leather cleaners
Also cleans rubber, plastic and vinyl surfaces
How to use
INTERIOR LEATHER & PLASTIC SURFACES
NOTE:  Test a small inconspicuous area for color fastness before applying to entire surface.
Mix one part product with 10 parts water (1:10)
Spray product on towel, brush or applicator pad
Apply product to surfaces and scrub vigorously
Dry area completely with clean towel
Apply leather conditioner to replenish leather's natural oils
---