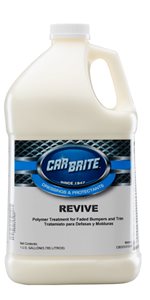 Car Brite Revive 2 Bumper & Trim Dressing
CV10AL1
.A high-gloss, bumper and trim dressing that restores the luster to faded bumpers and exterior trim

Effectively restores, shine and protects faded bumpers and trim
Generates deep, rich gloss
Very little product needed per application

Once applicator pad saturated, can be used repeatedly without adding additional product

Gallon US

How to use

Apply product to clean applicator pad.
Spread product evenly over bumpers and trim.
Wipe dry with clean, lint-free cloth.

NOT INTENDED FOR USE ON TIRES.
---