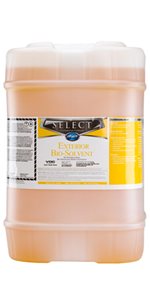 Car Brite Select Exterior Bio-Solvent
782683
Select Exterior Bio-Solvent
VOC Compliant
Body Shop Safe
Phosphate Free
NPE Free
Description:
A ready-to-use body prep solvent uniquely blended from renewable resources and is VOC compliant.
Characteristics
Function: Removes petroleum-based contaminants
Surfaces: Exterior paint and chrome
Formulation: Bio-solvent blend
Flammability: Combustible
Fragrance: Lavender Lemon
Key Benefits
Effectively removes grease, tar, oil and other petroleum deposits from exterior paint & chrome without scrubbing.
Bio-solvent blended formula can be easily rinsed with water.
Safe to use, non-flammable formula is made primarily from renewable resources and will not damage cleaning surfaces. Plus, it's safer for employees than traditional petroleum-based products.
Will not damage plastic or rubber surfaces.
How to use
Spray product on exterior surface to be cleaned.
Allow to dwell 2-3 minutes.
Thoroughly pressure rinse areas where product was applied.
---