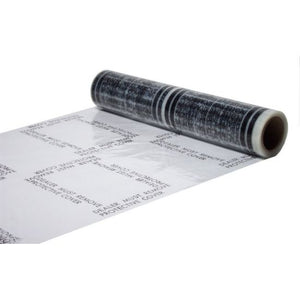 CARPET FILM 24"X 350' PRINTED 4MIL
CM-350PR-24-4
24 inch x 350 ft x 4 mil

Clean the carpet once and KEEP IT CLEAN with this great product.

Enhance vehicle image with Protects carpeting during demos, transport or maintenance.

Plastic carpet protection film protects freshly cleaned or dyed carpets and gives used cars a new car look and feel. Self-adhesive carpet cover protection film is printed with "Dealer Must Remove Protective Cover" in the industry standard rectangular pattern.

Film is wound on heavy duty 3 inch cores. 24 in. wide file is perforated every 21 inches, . Designed for applications up to 45 days in duration.
---