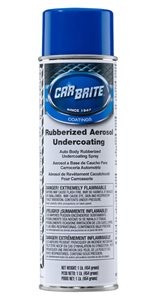 Car Brite Rubberized Aerosol Undercoating 18oz Can
G012SC
Rubberized Aerosol
 

Undercoating
VOC Compliant
Body Shop Safe
Description:
Provides a protective coating to help prevent rust & corrosion, reduce noise and seal out moisture.   Also protects against salt damage.  Can also be used as a crack sealer for concrete, asphalt, gutters, flashing and roofs.
Characteristics
Surfaces: Fender
replacements,
undercarriage
& section repairs
Flammability: Extremely flammable
Fragrance: Petroleum odor
Key Benefits
Seals out moisture
Helps prevent rust & corrosion
Reduces noise
Paintable
How to use
Shake can vigorously.
Clean surface of dirt and rust.
Hold can 12 inches from surface and spray thin, even coat building to desired thickness.
Remove overspray with cloth dampened with kerosene.
Specifications
VOC Compliant: Yes                                                                                                    Body Shop Safe: Yes                                                                                                    Solvent Based: Yes
---