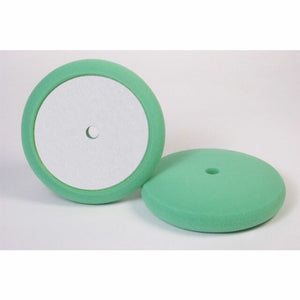 Hi-Buff (Classic Design) Foam Light Cut Pad (Flat Buffing Surface) 8" Green
HB-3N
Features
Work fast with confidence!

Heat dissipates quickly through the open cell foam, safeguarding expensive paints and clear coats.

The hook & loop backer is double bonded: hot-glued to the foam, then heat sealed at the edge for permanence.

The GREEN foam is extremely versatile, can be used with light duty compounds for paint correction with light scratches and oxidation.

Our VP-10  or VP11 backing plate locks snugly into the recessed back of the pad for perfect centering. It's almost impossible for the plate to contact the car's finish. 
---