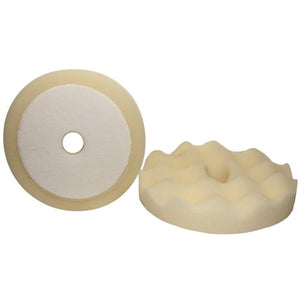 Hi-Buff Foam Heavy Cut Waffle Foam Pad 6" White 2/Pack
HB-16FC
HI-BUFF Waffle Foam Buffing Pads, 6 inch 2/Pack
 HI-BUFF BRAND - Professional 6" Waffle Polishing Pads are our highest quality foam for applying all compound, wax, paint sealants and polishing products

CHOOSE FROM 4 PADS - Can be used in place of wool pad, removes heavy oxidation, water spots, and wet sand scratches to final finishing of high end show car paint

WAFFLE DESIGN - Dissipates heat quickly minimizing potential finish damage and extending the buffing time of compound, polish, wax, and sealants

 DURABILITY - MADE IN USA - Pads are made with durable open cell foam, which improves the airflow between the pad and the surface for maximum cooling and smooth polishing
Color Guide to Hi Buff Foam Polishing Pads
White - Heavy Cut
Frequently used in place of wool pads. Very aggressive and appropriate for correction of heavily oxidized paint, severe acid rain, and wet sand scratches.
Yellow - Medium Cut
Can be used in place of wool pads for paint correction for surfaces with light to moderate surface defects or oxidation. 
Blue - Soft Polish
An excellent choice for use with waxes and polishes to produce a deep gloss on any painted surface. This pad is preferred for swirl removal.
Black - Final Finish
The ultimate in finish, shine, and gloss. 
Use With VP-12 or VP-14 Backer
---